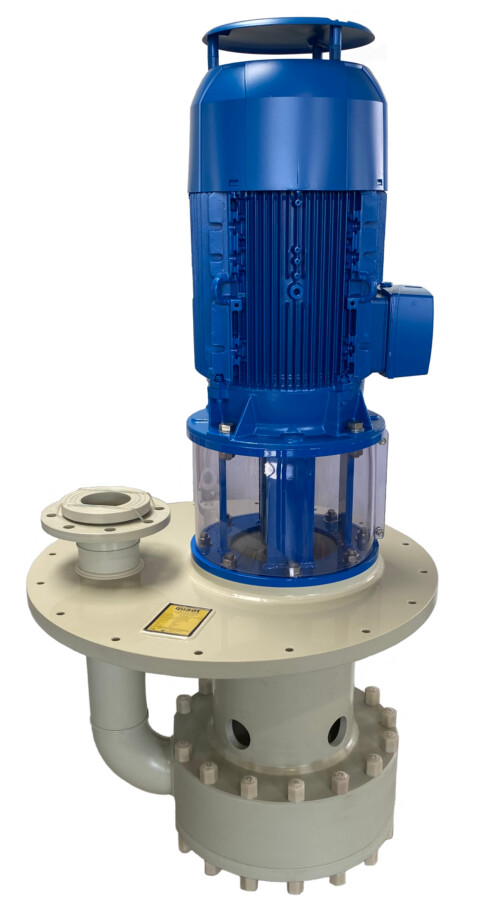 Immersion pumps in plastic for the chemical industry
Quadt
chemical immersion pumps
from the
TP series
are used to pump aggressive and low-viscosity liquids. This includes acids, bases, solvents, washing liquids, absorbents, sea water, chemically contaminated waste water and much more.
Every chemical submersible pump from Quadt is safe to run dry and extremely insensitive to liquids containing solids. It is used as a feed pump, circulation pump, filter pump or drain pump. Due to its high chemical resistance, it is used wherever other conventional materials such as e.g. stainless steel due to the high corrosive stress, too short a service life is to be expected.
A particular advantage of our submersible centrifugal pump is the long service life and low and simple maintenance effort, which leads to low operating costs with high efficiency at the same time.
Heavy-duty design for rough operating conditions is standard with our immersion pump.
Service / Extended Pump Program of the former KT Kunststofftechnik Troisdorf
Since 1996
we have also taken over and expanded the
complete immersion pump program
from the former company
KT Kunststofftechnik GmbH Troisdorf
. Furthermore, we have technical documents from former chemical standard pumps of the
HNP series
as well as chemical close-coupled pumps of the
BP series
and can offer parts and service for them as far as possible.
Deviating from the standard program presented here, special versions are mostly possible. This applies, for example, to the design of the installation flange, the design of the discharge port, the design of the suction port and the extension of the immersion depth, as well as special motors and other special requests.
Accessories such as filter suction strainers etc. are also available. Get in touch with us, we would be happy to advise you.